Dine & dance the night away…
Dinner Dance Finish Times
Tuesdays – 12:00am
Wednesdays – 12:00am
Thursdays – 12:00am
Fridays – 12:30am
Saturdays – 12:30am
November
Friday 23rd (£32.50pp) *limited availability*
Saturday 24th (£32.50pp) *spaces available*
Friday 30th (£49.50pp) *limited availability*
December
Saturday 1st (£49.50pp) *limited availability*
Thursday 6th  (£39.50pp) *spaces available*
Friday 7th *FULLY BOOKED*
Saturday 8th *FULLY BOOKED*
Tuesday 11th (£30pp) *spaces available*
Wednesday 12th (£35pp) *spaces available*
Thursday 13th – Casino Royale Night #1 *spaces available*
Friday 14th –  Casino Royale Night #2 *limited availability*
Tuesday 18th (£30pp) *spaces available*
Wednesday 19th *FULLY BOOKED*
Thursday 20th (£39.50pp) *spaces available*
Friday 21st *FULLY BOOKED*
Saturday 22nd (£49.50pp) *spaces available*

January Missedmas Dinner Dance
Saturday 5th January (£32.50pp) *spaces available*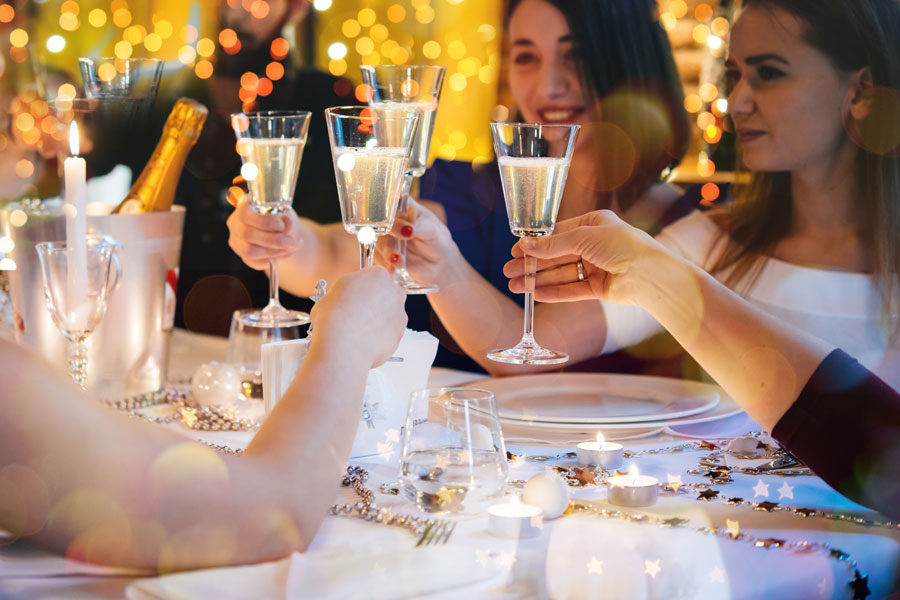 Get into the festive mood, Meet with friends, family and colleagues to celebrate this Christmas.
Enjoy a mouthwatering three course meal, specially prepared with love and care by our imaginative and talented chefs. Then it's party time! Dance to your favourite music with our in-house DJ and live singer on selected nights. Enjoy fabulous food, great music and festive fun in a wonderful party atmosphere.
Entrance fee includes half bottle of wine per person, arrive 7pm, to be seated for 8pm.
Why not take advantage of our special drinks offer? (Pre book only)
ONLY £200
 4 bottles of Prosecco
20 mixed beers
X 2 jugs of orange juice
To Start
Vegetable Red Lentil Soup (V) (GF)
Prawn Cocktail (GF)
Marie Rose Sauce, Dressed Leaves
Tomato Bruschetta on Ciabatta Croute (V)
Basil Oil, Red Onion
To Follow
Traditional Roast Turkey
with Pigs in Blanket
Yorkshire Pudding, Apricot Stuffing
Seared Sea Bream (GF)
Samphire & Lemon Beurre Blanc
Vegetable Moussaka (V)
Courgette Spaghetti, Crème Fraîche, Chives
All main courses are served with fresh seasonal vegetables and rosemary roast potatoes
To Finish
Traditional Christmas Pudding (GF available)
Brandy Sauce, Cranberries
Chocolate Brownie (V)
Fresh Raspberries, Amaretti Biscuits,
Chantilly Cream
Winter Berry New York Cheese Cake (V)
Fresh Berries
Coffee
Coffee & Chocolates