Can you believe the festive season is coming around again… yes, it might seem early but believe it or not, Summer is the best time to start getting ready for Christmas!
This year we have all sorts of fabulous festivities planned to help you get into the spirit early and keep it jingling all the way into 2020.
Christmas is a special time of year, all about spending quality time with the people you love and eating plenty of good food! Our festive events offer all you need to have yourself merry little Christmas with delicious food and good cheer, guaranteed to turn even the biggest Scrooge into a Santa's Little Helper.
What's on?
Enjoy the run up to Christmas with a fantastic traditional 3 course Christmas lunch created by our talented chefs.
Served Monday – Thursday 12pm – 4pm
3 Courses only £16.95 per person
Take a break from the commotion and spoil yourself with an array of tasty sandwiches, fruity scone and other festive treats. With unlimited tea & coffee, you can be free to take your time and relax in the Christmassy atmosphere.
Served throughout December, Monday – Friday 12pm – 4pm
Only £16.95 per person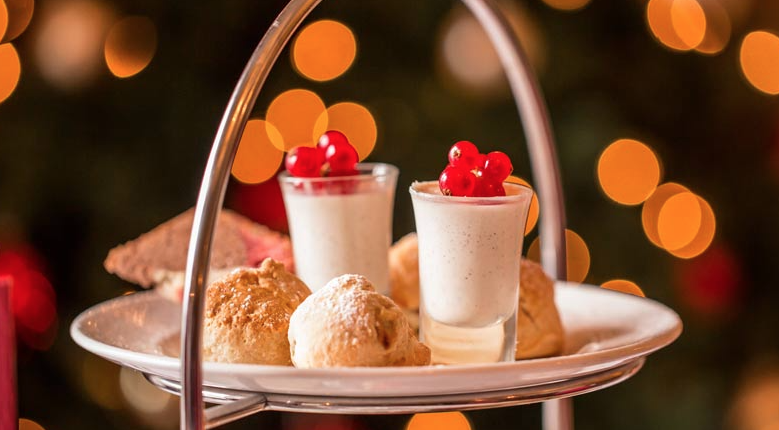 Celebrate in style with our outstanding festive party nights! Meet with friends, family or colleagues to enjoy a 3 course meal followed by a party with music from our in-house DJ or live singer on selected nights.
Dates throughout November & December!
Prices starting from only £30 per person
Why not also try our 'Shaken not Stirred' Casino Royale themed dinner, casino & dance evening on Thursday 12th December – limited availability!
Only £50 per person
NEW! You heard it through the grapevine? We've got an extra special Motown themed dinner and dance evening this year on Friday 13th December – limited availability!
Only £65 per person
NEW! All-Inclusive drinks nights in November. Four extra exciting dinner dances where you can relax without worrying about the drinks bill!
From £65 per person
All of the sparkle with none of the hassle! Get together with family and friends and tuck into an incredible 4 COURSE Christmas dinner with all of the trimmings, take your chance to relax and enjoy a perfect day with gorgeous food with great company, live music and fantastic service.
Wednesday 25th December
£120 per adult, £45 per child (3 – 10 years), Under 3's go free!
Keep the festivities going and the food & drink flowing with our special boxing day lunch menu accompanied by live music!
Thursday 26th December
£50 per adult, £20 per child (3 – 10 years), Under 3's goes free!
Take a short break with your loved ones and escape the post-Christmas blues! Relax and unwind after all the festive madness with a twixmas package, including: a 3 course evening meal, an overnight stay and a full English breakfast.
Offer valid between 27th – 30th December
Only £60 per person
Get glammed up and dance yourself into the new year!
Welcome in 2020 at our well renowned New Year's Eve Dinner Party, start the evening with a glass of prosecco before dinner, then enjoy live entertainment followed by music from our in-house DJ into the early hours.
Tuesday 31st December
£100 per person (adults only)
Eat Plenty to Welcome 2020!
Celebrate the start of a new year the BEST way with tea, coffee, sandwiches & sweet treats…
Only £16.95 per person