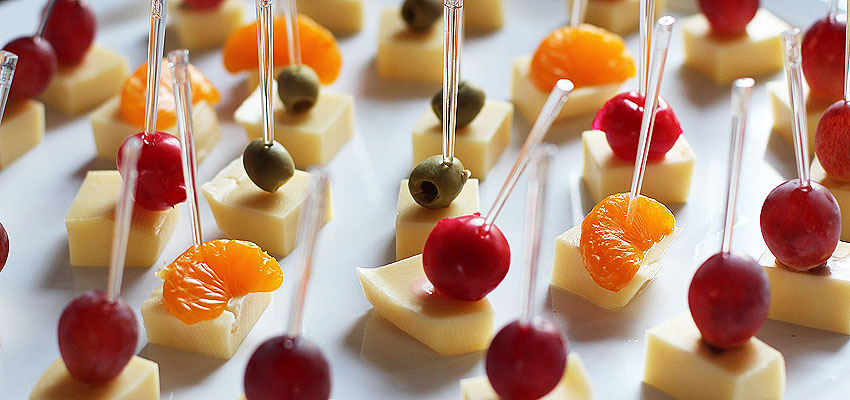 Savoury Canapes
Choose any 4 of the following at £5.95 per person
Smoked Salmon and Dill Crème Fraîche

Chicken Mousseline Mango and Coriander

Smoked Duck with Hoisin and Red Pepper

Roasted Baby Carrot with Hummus on Pitta

Mini Jacket Potato with Soured Cream and Chive

Stilton Mousse with Pecan Nut

Prawn with Chipotle Mayo in a Crisp Tortilla Cup

Parma Ham and Black Olive Skewer
Childrens Canapes
Choose any 4 of the following at £4.00 per child
Cheeseburger Crostini

Chicken Nuggets

Mini Pizzas

Mini Pigs in Blankets

Fish Goujons

Breaded Mozzarella Sticks
Sweet Canapes
Choose any 4 of the following at £5.95 per person
Chocolate Dipped Strawberries with Popping Candy

Set Posset Cup (choose from Lemon, Lime or Orange)

Chocolate Caramel Tart

Eton Mess Cup

Mini Fruit Tart (Seasonal Fruits)

Selection of Macaroons

Chocolate Sponge with Chantilly and Coconut
Cold Buffets
Mix & Match 
£17.95 per person, select 10 choices from the following, using the method below:
7 choices from Section 1
3 choices from Section 2 (Total 10 choices)

Extra options additional as per stated costs.
[Section 1]
1. Chinese Seafood Dim Sum Selection
2. Indian Onion Bahji & Vegetable Samosas Selection
3. Lamb or Beef Koftas, Mint Yoghurt
4. Satay Chicken, Peanut Dipping Sauce
5. Mini Vegetable Spring Rolls
6. Pigs in Blankets
7. Hand Made Mini Sausage Rolls
8. Pizza Bites
9. Smoked Salmon Canapés
10 Quiche (Various)
11. Chicken Goujons
12. Cherry Tomato & Mozzarella Skewers
13. Chicken Tikka Fajita Wraps

[Section 2]
14. Coleslaw Salad
15. New Potato Salad
16. Caesar Salad
17. Tomato, Red Onion & Balsamic Salad
18. Garden Salad
19. Pesto Pasta Salad
[Extra Options] Dressed Platters – all served with appropriate condiments, pickles & crudités
20. Whole Dressed Gammon Ham £100
21. Whole Dressed Salmon £100
22. Slow Roast Rib of Beef £150
23. Dressed Norfolk Turkey Breast £100
24. Fresh Fish & Shellfish Platter £9.95 per head
25. Cheese Platter £7.50 per head
26. Fresh Fruit Platter £5.95 per head
27. Set of Mini Desserts (min. of 30 people) £6.50 per head
VAT not included.
Hot Buffets
Menu 1 – £22.50 per person, select 6 choices from the following, using the method below:
2 choices from Section A
2 choices from Section B
2 choices from Section C (Total 6 choices)
Section A:
Roast Mediterranean Vegetable Lasagne
Aberdeenshire Scotch Beef Lasagne
Thai Green Chicken or Sweet Potato Curry
Chicken, Tarragon & Leek Pie
Shoulder of Lamb Shepherd's Pie
Steak & Guinness Pie
Chilli Con Carne
Chicken, Chorizo & Artichoke Pasta Bake
Aubergine Parmigiana
Chicken, Serrano Ham & Gorgonzola Cheese in a Wild Mushroom Sauce
Section B:
Minted New Potatoes
Thai Fragrant Rice
Potato Cakes
Mini Jacket Potato
Rosemary Roasted New Potatoes
Panache of Seasonal Vegetables
Section C:
Garden Salad
Tomato & Red Onion (with Balsamic Reduction)
Curried Rice Salad
Coleslaw Salad
Additional Side Dish at £2 per person.
Menu 2 – £13.50 per person
Bacon Rolls, Sausage in a Roll & Vegetarian Sausage in a Roll, with Chunky Chips or Wedges with a Set of Dips
Wedding Breakfast
Starters
Soup (seasonal flavours available, speak to function coordinator) £5.95
Fresh Tomato and Basil Bruschetta with Balsamic Dressing £5.95
Caramelised Fennel and Orange Salad £5.95
Pear and Walnut Tartlet with Rocket Salad and Balsamic Dressing £6.50
Wild Mushroom Filo Tart with Truffle Mayonnaise £6.50
Honey Roasted Goats Cheese with Rocket Salad and Caramelised Red Onion Chutney£6.95
Roasted Peach and Parma Ham Salad £7.50
Duck Mousseline Terrine with Orange Dressed Leaves £7.50
Seafood Cocktail: Potted Crab, Prawn and Smoked Salmon Bound in a Marie Rose and served with Baby Leaf Salad £8.50
Smoked Salmon with Atlantic Prawns, Horseradish Crème Fraîche and Lime Vinaigrette £8.50
Main Courses
White Meats
Chicken Supreme, in Chefs Blend of Herbs with Red Wine Jus £18.95
Pork Loin Chop served with an Apple and Thyme Jus £19.95
Turkey Breast served with Yorkshire Pudding, Pork Chipolata and Gravy (available stuffed at no extra charge) £19.95
Dark Meats
Roasted Duck Breast with a Griottine Cherry Jus (available medium or well done) £21.95
Slow Roasted Rib of Beef with a Red Wine Jus £23.95
Roasted Leg of Lamb with a Minted Lamb Sauce £23.95
Fish
Herb Crusted Salmon with Sauce Vierge £18.95
Grilled Mackerel Fillet with Horseradish Crème Fraîche £18.95
Roasted Cod in a Shrimp and Parsley Butter £19.95
Vegetarian
Roasted Vegetable Tart with Tomato Concasse £16.50
Spinach and Ricotta Ravioli tossed in a Sage Butter £16.50
Goats Cheese and Tarragon Pithivier with Beetroot Dressing £16.50
Baked Brie and Redcurrent Tartlet served with Caramelised Red Onion Chutney £16.50
Accompaniments
Priced at £4.50 per head, select 4 choices from the following, using the method below:
1 choice from Section A
2 choices from Section B
Section A
Traditional Roasted Potatoes
New Potatoes
Rosemary Roasted New Potatoes
Mashed Potato
Roasted Carrot and Suede
Section B
Sugarsnap Peas
Petit Pois
Cauliflower Florets
French Beans
Mini Corn
Carrots
Savoy Cabbage
Additional vegetables can be added at £1.50 per vegetable per head.
Desserts
All desserts are priced at £6.50
Cheesecake – various flavours available
Handmade Chocolate Brownie with a Sharp Raspberry Coulis
Handmade Apple Pie
Berry and Biscuit Mess
Poached Merlot Pear
Cointreau Mascarpone and Dark Chocolate Smash
Blood Orange Posset
Fresh Fruit Plate
All desserts are served with Cream, Ice Cream or Custard.
Cheese
A Trio of Cheeses served with a selection of Biscuits Garnished with Grapes and a Homemade Chutney £7.50
Coffee
Coffee and Chocolate Truffles £3.00
Childrens Menu (3-11yrs inc.)
With a starters and dessert of your choice £13.50 per child
Fish Goujons Mini Pizza's (v)
Pork Sausages Chicken Nuggets
Pasta in a Tomato Sauce (v)

Banqueting Wine List
Red Wines
RAMIER ROUGE, France £16.95 12%
Garnet colour, this wine has an attractive aroma of fruit and spice with a good finish.
LA VILLA REAL TEMPRANILLO SYRAH 2012, La Mancha, Spain £19.50 13.5%
A great blend of these two classic grapes. Easy to drink with plenty of character.
MOULIN DE LAVAL MERLOT 2014, Vin de pays d'Oc, France £20.90 13.5%
Deep, plumy pure Merlot from a vineyard near Nimes in southern France.
SADDLE CREEK SHIRAZ CABERNET 2013, South Australia £21.75 13%
A great blend of two classic grape varieties, producing a ripe fruit style red wine.
White Wines
RAMIER DRY WHITE, France £16.95 11.5%
A well structured dry white with a good balance of acidity.
NAGYREDE ESTATE PINOT GRIGIO 2014, Hungary £20.75 12.5%
A minerally white with ripe citrus fruit characters. Medium bodied with a clean finish.
TIERRA ALTA CHARDONNAY 2014, Central Valley Chile £21.50 13.5%
Intense aroma of fresh tropical fruits and a touch of butter from this quality producer.
SIMONSIG SEMILLON SAUVIGNON 2014, Stellenbosch, S. Africa £22 13%
A classic blend producing a crisp and fruity wine with a lingering aftertaste.
Rose Wines
RAMIER ROSE, France £16.95 12%
A lovely refreshing Rose, just off-dry it has soft berry flavours.
BEIRAS ROSE, Caves Messias, Portugal £21.25 11%
This is a delicious medium dry Rose made from Baga and Tinta Roriz grapes. It is fresh with a fruity nose and a refreshing light spritz.
Champagnes
JOLY BRUT £43.50 12%
The Joly family produce this excellent dry Champagne mainly from black grapes on their estate west of Epernay.
JOLY BRUT ROSE £48.90 12%
A fine Rose from the Joly family, full flavoured with hints of raspberries.
Sparkling Wines
VEUVE DE LALANDE BRUT, France £27.50 11%
This wine has a pale gold colour with fine bubbles and delicate floral aroma on the nose.
VEUVE DE LALANDE BRUT ROSE, France £27.50 12%
Bright salmon pink with fine bubbles. This lovely wine has a delicate and elegant nose of strawberries and raspberries and on the palate it is round and fresh with intense fruit flavours.
All wines quoted are 75cl bottles.
Reception Drinks
Bottled Beers £3.00
Pimms £5.25
Bucks Fizz £5.25
White/Red Wine £5.25
Sparkling Wine £5.50
Kir Royal £6.25
Peach Bellini £6.25
The management reserve the right to change wine selection, menus or tariff charges without notice.
A more extensive wine list is available if required. VAT not included.