Saying goodbye the right way.
Providing you and your guests with a fitting occasion, ensuring that your loved one will be remembered with dignity.
Coming to terms with the loss of a loved one is something we will all experience at some stage in our lives. As well as coping with our grief, there is the responsibility of arranging a funeral reception for friends and family.
If you are making funeral arrangements, we can help organise the wake with sensitivity and kindness. Leave it with us and we will endeavour to provide a fitting occasion to ensure that your loved one will be remembered with dignity.
Here at the De Rougemont Manor Hotel, we pride ourselves on providing a professional but informal service and our aim is to maintain the highest of standards so that the funeral reception runs smoothly from beginning to end.
Our experienced and professional team will make sure you are completely satisfied with all aspects of your day and our function co-ordinator will help you plan the wake, please give us a call on 01277 226 418 or drop us an email at [email protected].
Funeral Buffet Menu
Buffet Menu @ £19.95 per person.
Choose 7 of the following:
Homemade Sausage Rolls
Chicken Skewers with Tzatziki Dip (GF)
Filo Pastry Tart (Various) (VA)
Wraps (Various) (VA)
Pinwheel Pizza Bite with Garlic Aioli (Various) (VA)
Smoked Salmon & Cream Cheese Swirls (GF)
Steak/Cheese Puffs
Prawn Skewers with Soy & Ginger Dip (GF)
Veg Sticks & Humus (V) (GF)
Cranberry & Brie Wonton (V)
Mini Sausages with Honey & Mustard Glaze
Spring Rolls with Sweet Chilli Dip (V)
Choose 3 of the following:
Coleslaw (V) (GF)
Potato Salad (V) (GF)
Mediterranean Vegetable Couscous (V)
Tomato & Mozzarella Salad (V) (GF)
Garden Salad (V) (GF)
Pesto Pasta Salad (V)
Funeral Afternoon Tea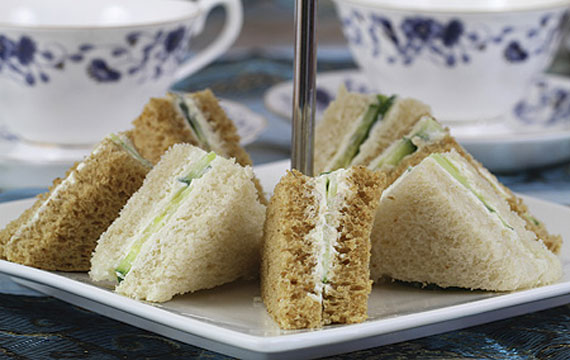 Afternoon Tea @ £21.50 per person.
A selection of filled sandwiches, served on white and wholemeal breads. Warm fruit scones with the finest Cornish clotted cream and strawberry conserve.
A delicious selection of fresh afternoon tea cakes.
All served with tea and coffee.
Contact us
Please fill in your details below to make an enquiry or alternatively please call 01277 226 418.