Here at De Rougemont Manor you can do both…
If traditional is just not your style try something different to engage your delegates.
Work with us to plan your bespoke conference designed specifically to suit your business aims and objectives. 
Get down to business in one of our 9 spacious meeting rooms before enjoying 'Totally Wiped Out' obstacle course in the hotel grounds. If physical activity isn't your team's strength then endeavour on a 'Crystal Quest' to test your problem-solving abilities or journey into the 'Jungle Experience' for the trial of the year. If that is all too much then use your conference to focus on stress busting 'Health in Mind' mindfulness session promoting relaxation, concentration, responding to situations, dealing with problems, and noticing important details.
Delivered in partnership with 'Off Limit Events Professionals'.
"Very good fun for all involved, and very well organized.  We had a lovely time!"

Want to keep it simple but effective?
We offer an exclusive Delegate Day Rate package of £35 per person (Minimum of 10 delegates).
This package includes:
Conference Room Hire

(Choose from 9 Rooms*)

Iced Water on arrival and throughout the day

Mid Morning Tea/Coffee served with a range of Biscuits

(Pastries/Breakfast Rolls available pre-ordered and at an extra cost**)

2 Course Working Lunch accompanied by Cordial Juices

(Menu Choices to be discussed)

Afternoon Tea/Coffee served with a range of Biscuits

Screen, Projector & Flipchart

(Dry Wipe Pens & Board Rubber)

Pens & Note Paper

Free Car Parking

Free & Fast Wi-Fi access
*Subject to availability of desired dates
** Pastries priced at £1.45 per person & Breakfast Rolls priced at £3.00 per person – pre-ordered only.
Not enough time in the day?
Why not stay the night and pick up where you left off in the morning? No need for the team to commute! We offer a reduced room rate with breakfast included – single rooms starting at £89 per night.
Want to launch a new product or meet with suppliers?
Let us help you tailor make your product launch in our Goldings Conference Centre. A grand space to 'Wine and Dine' your guest and show them what you and your product are about at that all important moment.
Are you meeting and greeting new or existing suppliers? Then The Study or our Garden Lounge with their chic interior designs are perfect for impressing those VIP's. The Conference Team will work alongside your meeting schedule ensuring all attendees arriving throughout the day are given the attention needed.
Please note payment for conferences at De Rougemont Manor should be settled on departure on the day of the conference – unless discussed otherwise with Hotel Management prior to departure date.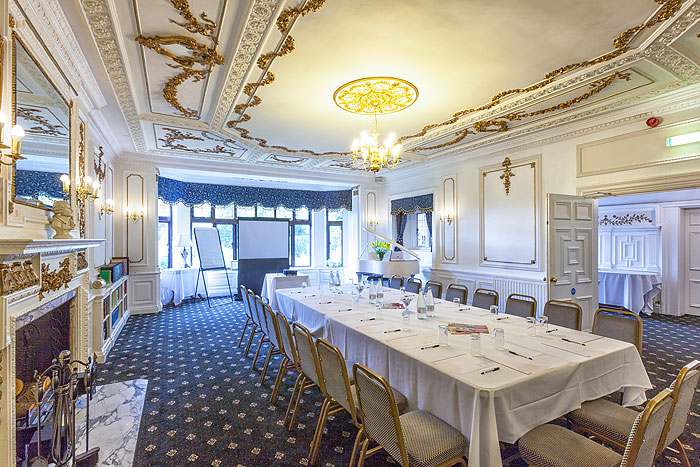 Whatever suits your company, we can work with you to construct the perfect conference, here at De Rougemont Manor. To book or enquire about hosting a conference or corperate event please do not hesitate to get in touch via email at conference@derougemontmanor.co.uk or alternatively by phone on 01277 226418.